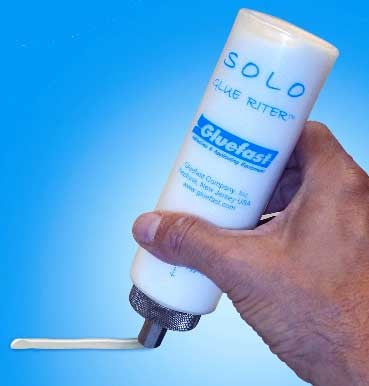 Gluefast
SOLO GLUE RITER® with 10 ounces adhesive
A simple glue bottle (plastic squeeze bottle) with fast setting MATHESIVE, a water based adhesive for many gluing jobs.
It is the first glue bottle with precision control.
Applies a dot or line of adhesive the size of the applicator.
Replaces double sided tape for many jobs at a fraction of the cost!
There's no daily cleanup!
SOLO GLUE RITER® is ready when you are.
Bottle is refillable with MATHESIVE.
This bottle comes with 10 oz. of MATHESIVE. We have two MATHESIVE formulas: MATHESIVE 101B for gluing matboard, dust covers to wood, and wood-to-wood. MATHESIVE 202U for all of the above plus for gluing dust covers to ABS (styrene) frames.
Available in two applicator sizes:
1/2" wide applicator with MATHESIVE 101B GRB/10-101B
1/2" wide applicator with MATHESIVE 202U GRB/10-202U
1/8" wide applicator with MATHESIVE 101B GRB/10/8-101B
1/8" wide applicator with MATHESIVE 202U GRB/10/8-202U
Testimonial:
"We love the Glue Riter."

Ken Smith
Wall-Y World Gallery
Ormond Beach, FL
---
Share this Product
---
More from this collection